A neat assortment of beer pictures. The blogger says they're Christmas beer pictures, but the scope doesn't seem quite that narrow.
__________
Conviviality's last stand. People may be bowling alone, but they're drinking together: The American Homebrewers Association reports that more than 1,900 brewers and would-be brewers participated in Teach a Friend to Homebrew Day earlier this month.
__________
Yesterday's Wall Street Journal provided this week's feature BYCU: Trappist beer. I hate to sound affected, but it's one of the most beautiful beer stories I've ever read. Excerpts:
Their brew, offered in strengths up to 10.2% alcohol by volume, is among the most highly prized in the world. In bars from Brussels to Boston, and online, it sells for more than $15 for an 11-ounce bottle -- 10 times what the monks ask -- if you can get it.
For the 26 monks at St. Sixtus, however, success has brought a spiritual hangover as they fight to keep an insatiable market in tune with their life of contemplation.
The monks are doing their best to resist getting bigger. They don't advertise and don't put labels on their bottles. They haven't increased production since 1946. They sell only from their front gate. You have to make an appointment and there's a limit: two, 24-bottle cases a month. Because scarcity has created a high-priced gray market online, the monks search the net for resellers and try to get them to stop.
"We sell beer to live, and not vice versa," says Brother Joris, the white-robed brewery director. . . .
"No question, it is the holy grail of beers," says Remi Johnson, manager of the Publick House, a Boston bar that has Westvleteren on its menu but rarely in stock.
I just received a copy of Into Great Silence. I'm ready to watch it with a tankard at my elbow.
__________
This week's beer picture: Two Brothers. The dichotomy is total, but both are connected to beer:
First, Brother Joris from St. Sixtus: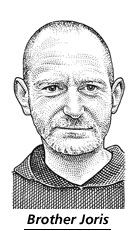 And then another brother: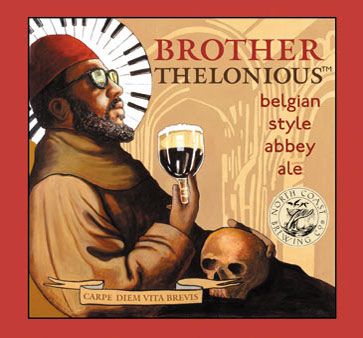 You can decide which is cooler.