Join me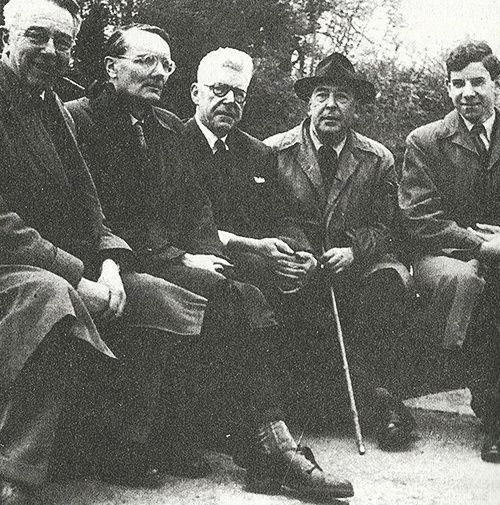 My daughter Meg is a junior at Hillsdale College (where she run, runs, runs on the cross-country team. . . . Monday's column). She's required to attend one "Center for Constructive Alternatives" lecture series before she graduates. She has picked the one coming up shortly: The Inklings.
It looks really good. They're even going to discuss Charles Williams and Owen Barfield (the best one . . . a lawyer):
C.S. Lewis and J.R.R. Tolkien wrote some of the twentieth century's most beloved works of literature, including robust defenses of the Christian faith. Together with Charles Williams, Owen Barfield, and others, Lewis and Tolkien were members of an informal professor-student literary group at Oxford in the 1930s and 40s known as the Inklings. This third CCA of the 2021-22 academic year will examine the philosophical, theological, and literary ideas that bound the Inklings, their understanding of the relationship of myth and reality, and the continuing importance of their thought and writings today.
I have it on my calendar. Apparently, you don't need to register. You can just show up, which fits my (lack of controlled) schedule perfectly.
If you're a TDE reader and want to meet, shoot me an email so we can keep an eye out for one another (ericscheske @ g mail com . . . my web guy tells me never to put my "intact" email address in a post or bots will pick it up and flood my box with spam). I definitely plan on attending the Sunday (January 30) and Tuesday (February 2) lectures. I'll probably do Monday. I can't do Wednesday (scheduling conflict, which bums me out; the inestimable Nathan Schlueter will be part of the roundtable discussion).
If this experience goes well and my schedule permits, I'll probably attend a few lectures in the next CCA: film noir. That series looks really good, too.
---
January 30
4:00 p.m. "Who are the Inklings?" Bradley J. Birzer, Hillsdale College
8:00 p.m. "C.S. Lewis's The Abolition of Man," Michael Ward, University of Oxford
January 31
4:00 p.m., "J.R.R. Tolkien's Scholarship," Michael Drout, Wheaton College Massachusetts
8:00 p.m., "Themes of Lewis's Fiction," Jason Lepojärvi, Thorneloe University
February 1
4:00 p.m., "Tolkien and the Christian Imagination," Holly Ordway, Word on Fire Institute
8:00 p.m., "An Evening with C.S. Lewis," a Dramatic Presentation, David Payne, Actor
February 2
4:00 p.m., Faculty Roundtable: Mark A. Kalthoff, Eric J. Hutchinson, Jason Peters, Nathan W. Schlueter