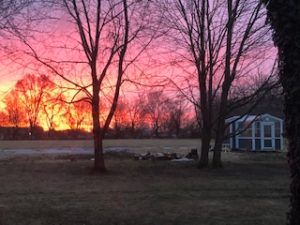 Garden Writing is About More than Plants
The biographical, philosophical, meditational, and countercultural world of American gardening literature
Riddle: What literary genre has historical roots that predate Socrates; features hundreds of American writers including Thoreau, Washington Irving, and Edith Wharton; and is a genre that you've probably never even heard of?
Answer: American gardening literature.
Don't roll your eyes.
It's a thing.
American gardening literature is a blend
In fact, American gardening literature is a big thing.
I have three volumes of gardening literature anthologies in my home library alone. Amazon has an entire department dedicated to "Gardening & Horticultural Essays." Yes, just "essays." It has two dozen other departments dedicated to gardening and horticulture in general.
The genre of American garden writing runs the gamut from technical to inspirational, from garden bed blueprints to meditations on weeding.
There are, for instance, seed catalogs that merely list seed specifications. They hardly qualify as literary endeavors. And then there are literary seed catalogs . . . those rare (and free!) publications that are informational, occasionally witty, and serious about their prose (one of my favorites is published by Wild Garden Seeds in Oregon).
Among contemporary books, you have The Vegetable Gardener's Bible, which is my standard "go-to" book but hardly qualifies as serious literature. And you have Inheriting Paradise: Meditations on Gardening, by theologian-gardener Vigen Guroian, which might be lovely but scarcely talks about gardening techniques.
And then you have The Tao of Vegetable Gardening by Carol Deppe, which is a beautiful hybrid: mostly how-to gardening advice, but laced with a meditational bent that, though rarely overt, informs the book as a whole.
Deppe's book is what I mean by "American gardening literature." It's packed with gardening advice from a highly-educated and experienced gardener (Deppe holds a PhD in biology from Harvard), but it's about (oh so much) more, as evidenced by its subtitle: Cultivating Tomatoes, Greens, Peas, Beans, Squash, Joy, and Serenity.
A subtitle like that can make even the most ardent brown thumb think about putting her fingers into the soil.
Read the Rest at Medium
or
click here:

Gardening literature is unusual. It, in the words of literature professor M.E. Bradford, mixes "practical agricultural advice and moral reflection."
In western culture, it goes back over 2,500 years, at least to Hesiod's The Works and Days in the 8th century BCE.
Later Greeks followed suit, as did the Romans (Cato the Elder's De Agri Cultura, Virgil's Georgics). Agricultural literature was firmly ensconced in the classical world.
It's no surprise that America followed suit. The early Americans loved ancient Rome, including its agrarian literature: "Roman poets, such as Horace and Virgil, praised an agrarian lifestyle, and their work struck a chord with the self-sufficient, hardy farmers of early America." Paul Meany
Colonial Americans wrote about gardening and agriculture in general. Thomas Jefferson, for instance (not surprising, given his agri-politics) and Washington in a few of his letters.
French transplant Hector St. John de Crèvecœur wrote Letters from an American Farmer (1782), which became wildly popular with Europe's reforming class and was sardonically savaged by D. H. Lawrence nearly 200 years later in his delightful Studies in Classic American Literature.
"Hazlitt, Godwin, Shelley, Coleridge, the English romanticists, were, of course, thrilled by the Letters from an American Farmer. A new world, a world of the Noble Savage and Pristine Nature and Paradisal Simplicity and all that gorgeousness that flows out of the unsullied fount of the ink-bottle."
And then there's John Taylor of Caroline, a wealthy lawyer and agriculturalist, whose talents didn't carry over to the printed word, causing John Randolph of Roanoke to suggest that someone translate him into English.
Taylor wrote Arator: Being a Series of Agricultural Essays, Practical and Political: In Sixty-Four Numbers.
I have it on my shelf. I've picked it up a dozen times over the past dozen years. I can testify: John Randolph was right about the prose, but I can also testify that it falls squarely within the genre: how-to agricultural advice combined with loftier subjects.
(Aside: One can quibble with me characterizing Arator as "gardening" literature. Taylor operated large tracts and wrote from that perspective, which clearly lands his writing in the "farming" category. It's hard to know when "gardening" literature becomes "farming" literature, but that's alright: no one knows when gardening turns into farming. I annually grow over 500 pounds of lettuce on my half-acre plot that I sell at a local outdoor market: gardener or farmer?)
Modern American gardening literature
American gardening literature didn't stop with colonial America, not remotely.
The nineteenth saw gardening literature from Henry Ward Beecher, the young Frederick Law Olmsted, and the Shaker Seed Catalogue. An Englishman, William Cobbett, even entered the genre with his popular The American Gardener while spending two years on Long Island.
The genre was even popular during the urban-infatuated Roaring Twenties, prompting House & Garden magazine to assemble an anthology, The Gardener's Bed Book, in 1929, shortly before the stock market crashed and sent everyone scrambling to grow their own food.
During the Great Depression, the "Fugitive Agrarians," a group of well-known writers like poet Allen Tate and Robert Penn Warren (All the King's Men), published a set of essays, I'll Take My Stand, that celebrated the south and America's agrarian traditions.
The later twentieth century saw explosive growth in gardening literature, probably because mega-agricultural corporations, giant machines that crush the earth under their threads, and artificial chemicals gave small agricultural pursuits a sense of urgency.
The urgency manifested itself in 1943 with the publication of Pulitzer Prize winner, Louis Bromfield's, Pleasant Valley, which, according to the summer 2020 issue of Organic Grower, paved the way for today's organic agriculture movement.
He also published a book of essays named after his Ohio agricultural footprint, Malabar Farms, which had become such a popular destination spot that Humphrey Bogart and Lauren Bacall got married there in 1945.
After that and the publication of Rachel Carson's Silent Spring, the ideal of small agricultural practices, especially organic ones, fed into and melded with gardening literature, creating a gardening literary boom. As a result, there is a late-twentieth-century American gardening book for every taste.
Are you interested in gardening literature from the Upland South? Wendell Berry built much of his writing career around Kentucky agricultural matters.
Looking for something from the southwest? Try John Graves' 1974 Hard Scrabble: Observations on a Patch of Land, about converting hundreds of acres of cruddy land in Texas.
You want something with a heavy religious bent? Try Catherine Doherty's Apostolic Farming.
Do you want to see someone give the metaphorical middle finger to modern agriculture and modern life in general? Try Gene Logsdon's The Contrary Farmer. (If you want to read just one essay in this vein, you might enjoy my "Confused and Contented.")
And if you want to get radical, there's a whole cottage literary industry that has sprung up about homesteading and living off the grid, including Carolyn Chute's 2008 novel, The School on Heart's Content Road, for those who prefer their gardening literature in fiction form.
Persephone's descent starts shortly.
Get your crops in, button-down the cold frames, and prepare to nestle in with books from America's gardening literature.
You'll get ideas for the spring. You'll see what gardening means for your soul.
And if you're not a gardener now, you probably will be by the time the weather starts to warm.
Comments