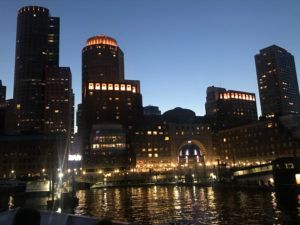 Bowling to Sharks
My apologies for missing the past couple of days. I intended to blog from Boston, but only put out the single piece from Wednesday. Sightseeing got out of hand: candlepin bowling; Salem; evening boat tour; walking around downtown and in Southie; bar hopping in Davis Square; swimming in the Atlantic Ocean.
I did the latter before I heard about the the recent spate of Great White shark sightings). My son-in-law didn't tell me about the sharks. Come to think of it, he also didn't go swimming, opting instead to stay on the shore with my infant granddaughter. Hmmmmm. I thought we had a pretty good relationship.
This was my second try at candlepin bowling. I love it. I spoke with the proprietors at this great establishment in Southie at length, thinking it might make a good business venture here in Michigan. They told me it would cost $2 million to set up 20 lanes and that there's no way such a business could be sustained on bowling alone, which means a vibrant bar would also be necessary (or make a few regular bowling lanes into candlepin lanes). The last thing I'd ever want to do is operate a bar, and I don't have $2 million and don't want to borrow $2 million, so that business idea is dead.
If anyone knows of candlepin bowling in Michigan or Indiana, email me. One discussion board said there are sites in Detroit, but the Google Machine turned up nothing.
Comments