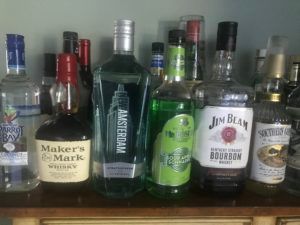 Reasons to Drink
I'll drink to that: San Buenaventura has been declared a minor basilica. It's a lovely place. We stopped there last year during our spring break trip up Highway One.
Which I'll also drink to: Highway One. My son, Jack, and his new bride are honeymooning along Highway One. They had planned on Hawaii (me: gag), but due to its staunch lockdown, opted for Highway One instead (me: yes!). Based on their texts, they're having a splendid time. California is in lockdown, but a few places are open and so are the iconic views of the Pacific Ocean. For my money, if the lockdown in California means traffic is reduced, it's a great trade-off: fewer restaurants for fewer cars.
I'll also drink to TDE numbers: They've doubled over the past three months. Since I resumed daily posting, the numbers have steadily increased, but really spiked in June, nearly doubling the March figures.
Of course, we need no reason to drink. As Albert Jay Nock pointed out when ridiculing Prohibition, alcohol in nature flows almost as freely as water. Its consumption is as natural as bathing . . . and does much the same thing: cleanses us from the filth of everyday life.
I plan on doing some bathing this evening.
Comments