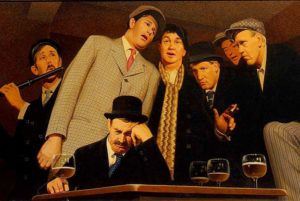 Wedding Neareth
Well, it's party time. My son's 400-person indoor reception has been moved outdoors to my backyard, with social distancing measures put in place. Not only are numbers slashed almost in half, but there will be two separate reception areas to allow greater spread. There is also a space for those who want to get close to the action but keep distance: by going into a cleared-out area of the garden, they can be ten feet from the main reception area but stay behind a (largely) invisible deer fence, thereby thwarting the folks who just don't "get" social distancing. Drinks will also be available at three locations, and I have offered to shoot any close-talkers who show up.
The beer offerings: Modelo Negra (for the Mexican guests), Oberon (for all guests), and Miller Lite (for the guests who don't like beer). There will also be copious amounts of tequila, vodka, and gin, as well as small amounts of bourbon and wine.
I'm told we won't be allowed to return the beer kegs due to Michigan Executive Order. I'm also told that there's a keg shortage as a result. That wasn't my experience. I still have the three kegs I ordered when I thought we were having 400 guests (sigh/smile).
Well, that's it for today. I gotta run . . . and run and run. Please pray for my son and new daughter-in-law; please pray for a happy weekend. It's been a long and difficult haul these past two weeks. It's time for something to go right.
Comments