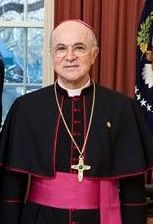 Pick One!
I'm not sure I've ever seen such a clear illustration of the rift between the Left and Right in Catholic matters:
Vatican Archbishop Carlo Maria Viganò, the former Papal Nuncio to Washington, D.C., has written to President Trump, praising his leadership during a critical juncture in his presidency as he faces harsh criticism for his handling of the coronavirus and the George Floyd protests.
In a June 7 letter addressed to President Trump and obtained by Newsmax, Viganò writes that the President's enemy is "the children of darkness "" whom we may easily identify with the deep state which you wisely oppose and which is fiercely waging war against you in these days . . ."
And then:
Washington Archbishop Wilton Gregory, a church liberal, publicly chastised the Shrine for hosting the President.
In a statement Gregory stated: "I find it baffling and reprehensible that any Catholic facility would allow itself to be so egregiously misused and manipulated in a fashion that violates our religious principles, which call us to defend the rights of all people even those with whom we might disagree."
Link.
Comments