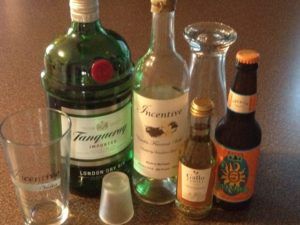 Moving, Suspending, and Drinking
Summer is in full swing. The lockdown has lifted.
And I feel like a drink, but no: It's moving weekend.
We moved into our new house in March. I got the most important things back then: about 3,000 books and 100 bottles of liquor. Now we gotta go back for things like the exercise equipment and piles and piles of crap. By the time we're done, I'm gonna need those 100 bottles of liquor.
But at least I'll have plenty of time for moving and drinking: The Weekly Eudemon podcast is going on hiatus. I'd normally been encouraged by the listenership numbers, to the best I could figure them out (podcast stats are notoriously hard to track). But over the past two months, I didn't like what I saw, so I figured out how to use Blubrry and paid the stat-tracker user fee. I wasn't happy with the results. They were about half of what I hoped. I need to step back and figure out how to make it resonate better.
I don't know when it will relaunch or what the relaunched product will look like (if you subscribe, just keep your feed . . . you'll automatically get notice when it relaunches). I just know that the new product (i) won't publish on a set schedule, and (ii) every episode I release will strive to be excellent (no cranking out a podcast to stay on a weekly (or other) schedule). That's all I know. Part of the reboot process is to step away for a few weeks and not think about it. I start that process . . . now.
With vodka.
And why vodka? Because I have spreading eczema on my legs, and it got extremely itchy on Thursday . . . after drinking a few gin and tonics Wednesday night. I saw my dermatologist yesterday and asked if there could be any relationship between the gin (the juniper) and the eczema. He just chuckled and said, "Could be. There's a relationship between alcohol and eczema. I've never heard gin in particular, but it's possible. Tonic water, incidentally, might be good for it."
So tonight, I switch back to vodka and tonics for a little while. Also rum. My new mint garden is taking off, plus I have basil in the pots. It's time to fire up the Mojitos.
Comments