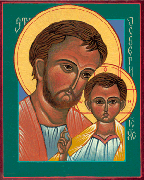 Welcome to the Feast Day of St. Joseph. One of my favorite shows, Fr. Matthew's St. Joseph's Workshop, gets my nod today. Yesterday, he said St. Joseph reminds fathers that they need to do what they can in these uncertain times and work hard, but also need to have faith, acknowledge that they're not in control, and not be anxious. That's my summary, but I think it's accurate and a great reminder in these times.
If you, as a father, failed to plan for this pandemic and are running out of hand sanitizer, just go to one of those claw machines. I hear at least one of them has put sanitizer and toilet paper in the bin. Or you can try to take your mind off it by winning marijuana in a raffle, like this eight-year-old boy did.
I'm really surprised the marijuana community hasn't claimed that pot cures Coronavirus. They're about as temperate in their claims as a tent revival preacher that also sells snake oil. I've heard the religious ones claim that Jesus used CBD oil to perform his miracles. So it wouldn't surprise me if they claimed that marijuana kills the virus. Oh wait, they have made that claim, though it appears to have started as a joke that stoners then took seriously. Stoners don't have a strong sense of discernment in these matters, if you haven't noticed.
Comments