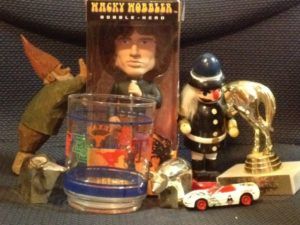 Midweek Ramblings
I saw an interesting Tweet this morning. It was to the effect, "Coronavirus is everywhere, so there's no use trying to avoid it." I wouldn't be surprised if the sentiment is accurate, but in the details, it's surely lacking. I gotta believe the virus is less likely to be present in my home library than it is at a concert hall in Seattle. Unless, of course, I'm already Corona screwed.
And it's probably less likely in my home library than it is at a Las Vegas buffet. That is, if they still existed. It looks like they're shutting down at the Aria, Bellagio, MGM Grand, Mandalay Bay, The Mirage, Luxor, and Excalibur. The Wynn, however, will keep its world-famous breakfast buffet open, which isn't surprising: Steve Wynn is a Trump supporter, so he doesn't care about the Coronavirus. Of that, the mainstream media assures me.
By the way, be leary of novel Coronavirus preventions or cures. I hear there are a lot of people trying to profit off the virus. Of course, I haven't heard of any touting the benefits of inserting potatoes into your anus, but it's probably not far behind: Doctors are starting to get very concerned about people who subscribe to a dangerous home remedy touted on numerous websites, which involves inserting a potato into the rectum. This site, referencing the story, jokingly cautions against putting any frozen vegetables in there.
When I read it, it honestly crossed my mind for a moment whether it might spark a cry of protest from the LGBTQX community. That might be homophobic of me, but isn't also homophobic not to respect others' preferences in this . . . area? I don't know what way to go with it. The answer, of course, is to say nothing, which is exactly the end-game of the Left these days: enforced silence on all things that might be critical of anything that is on the traditionally-disfavored pole of the binary.
Comments