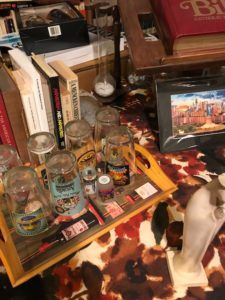 Gay Thursday
I discovered this evening that my backyard might be responsible for the stunning victories of the LGBT movement over the past 10 years. The Stryker Corporation out of little Kalamazoo, Michigan, is largely to blame. It's a stunning papertrail of money. If accurate, it's also disturbing. We always knew the American mind was weak and malleable. (Question: What kind of person goes from being repelled by homosexual activity to supporting gay marriage in ten years? Answer: A vapid person.)
Jon Stryker is the grandson of Homer Stryker, an orthopedic surgeon who founded the Stryker Corporation. Based in Kalamazoo, Michigan, the Stryker Corporation sold $13.6 billion in surgical supplies and software in 2018. Jon, heir to the fortune, is gay. In 2000 he created the Arcus Foundation, a nonprofit serving the LGBT community, because of his own experience coming out as homosexual. Arcus has given more than $58.4 million to programs and organizations doing LGBT-related work between 2007 and 2010 alone, making it one of the largest LGBT funders in the world. Stryker gave more than $30 million to Arcus himself in that three-year period, through his stock in Stryker Medical Corporation.
I guess it's thanks to Kalamazoo, Michigan, that I can read sentences like this one that I saw in the New York Times a few hours ago:
Ms. Regan is a 40-year-old chef from Indiana with a Michelin star who last summer published "Burn the Place," perhaps the definitive Midwest drunken-lesbian food memoir.
The "definitive" Midwest drunken-lesbian memoir? Is that right next to the definitive East coast drunken-Rastafarian pedophile memoir? Or maybe the definitive Northern stoned-midget wrestler memoir? How many such memoirs have been published? I have no idea, but I can't believe it's much more than, say, one.
Oh well. Our gay universe continue to rotate. Until Brews You Can Use tomorrow . . .
Comments