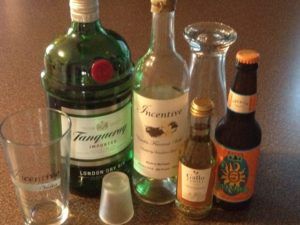 BYCU
Mid-January. Winter storm warnings afoot. What else is there to do but drink? Apparently, Anheuser-Busch agrees. For every inch of snow that falls, it's offering $1 off select Busch products in these cities: Des Moines, Iowa; Grand Rapids, Michigan; Minneapolis; Fargo, North Dakota; Omaha; Buffalo, New York; and Green Bay, Wisconsin.
Yeah, a stupid gimmick. But they need one. They need several.
In 2018, alcohol consumption in the United States dropped for the third-straight year, according to IWSR Drinks Market Analysis. And beer is to blame: Sales of a case of beer declined 1.5%. For the past five years, beer volume in the US declined 2.4%, the firm said. The trend doesn't appear to be reversing itself. Sales of domestic beer slipped 4.6% between October 2018 and October 2019, according to Nielsen. Microbrew and craft beers are also in a minor slump, down 0.4%. Link.
The article says spiked seltzer, canned wine, pre-made cocktails, and premium liquor are taking the biggest bite out of the beer industry. Within the premium liquors, tequila, whiskey, and vodka are increasing their sales the fastest. That really surprises me. I thought gin would've been in the top three (I thought the vodka craze peaked two years ago). Oh well. More for me.
Unrelated: There's an article at Outside Online about Scotland's most-remote pub. I haven't read it yet. And, to be honest, given its length, I doubt I will. But it looks really good. From the introduction:
For many years, the legend of the Old Forge echoed down the glens and out across the world. I heard stories of midsummer nights when the light never quite left the sky and the music never left the pub–the fiddles reeled, the beer flowed, walkers steeled their trail-weary limbs and danced on the tables and out into the streets in the gathering dawn. The hangovers lasted an eternity.
Comments