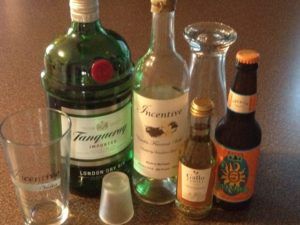 BYCU
Oh my, the drinking world is collapsing. First, I haven't yet had a drink this decade. And now the next most-manly guy in the world is drinking non-alcoholic beer: Daniel Craig's James Bond prefers non-alcoholic beer over a martini (shaken, not stirred) in a new international spot touting No Time to Die.
But of course, alcohol runs as freely as water. It'll continue to pump joy through our veins. There's always something new in the drinking universe. Heck, just last night, I read for the first time about Facebook's vigorous black market in bourbon. It's definitely the most interesting drinking piece of the young decade:
"Facebook made bourbon," says Gene Nassif, an extremely online whiskey fan from Iowa. He rightly notes that bourbon had been pretty dead since the 1960s, when clear spirits like vodka started rising to the forefront. Then, in 2006, Mark Zuckerberg's privacy-invading wet dream opened to everybody and soon thereafter began allowing members to start and join private groups. Coincidentally, a bourbon renaissance was in its nascent stages in America, propelled by the craft cocktail boom, the rise of foodie culture, and, some people even say, the Old-Fashioned-slugging louts on Mad Men, which premiered in 2007.
There's always something new . . . and even things ironic. In New York, they're going to raise taxes on beer to raise money for colleges. That's like raising taxes on cigarettes to raise money for trailer parks and carnival workers.
Comments