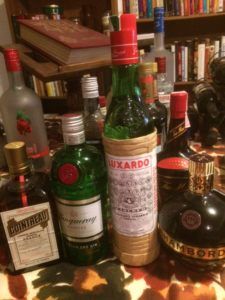 Brews You Can Use
Bless the Varidesk.
Bless work.
Bless gin.
Bless Jim Lowe.
Allow me to tie that all together.
I've previously pointed out that if, all is play, even work becomes play. Play occurs in that crucial EXISTENTIAL GAP, that area between subject-object where a person thrives.
Shift to Thursday night. Christmas looming. Work piling. The little kids' high school band concert preparing . . . about 300 yards from my law firm's back door. I have to attend, but Marie will text me when it's about to begin so I can work to the very last second (squeezing that last billable minute out of the day).
My Varidesk standing tall. And a half gallon of Bombay Sapphire gin sitting in the back of my office.
A perfect storm, of sorts. I started pouring, stood/danced at my Varidesk, cranked 1950s music, and danced/drank/worked/played for 90 minutes, really getting into Jim Lowe's "Green Door" when it came on.
I'm no saint, but I practice what I preach . . . at least when alcohol is involved.
I hope everyone's holidays are going as well as mine. God bless.
Comments