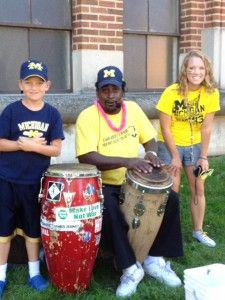 Born in 1966, I hit puberty as Jimmy Carter wound-down his presidency and I became an adult under Ronald Reagan. I spent a lot of time partying and acting ridiculously during high school and college, but toward the end of my college years I got a serious streak. It was 1987; I was a junior at the University of Michigan, and I started reading everything I could get my hands on, from economics to politics to philosophy. It was a shotgun approach, with a strong emphasis on literature. I would go to the Dawn Treader Used Bookstore in Ann Arbor and buy fifty cent paperbacks of modern classics, like All Quiet on the Western Front and A Streetcar Named Desire. It was here that I bought my cheap paperback copies of The Catcher in the Rye and Franny and Zooey. I also bought some books by Camus.
I'm not sure why I turned to Salinger and Camus, but I think it's because I had a presumption of sorts that they were on the "cutting edge." I remember having the impression that these men, especially Camus, were writers who dealt with modern "things," and were men I needed to understand in order to be current in intellectual and artistic patterns. Based on conversations with people now and my Internet surfing, this still seems to be the case today, nearly fifteen years later.
It's odd that these men should still be deemed to be on the cutting edge. Camus died in 1960 in a car accident; Salinger "died" to the literary world in 1969 by reclusing himself in Cornish, New Hampshire. When I started my reading rush, neither man had published anything in over twenty years (Camus' works came out in the 1940s and '50s; Salinger's only two novels, Catcher in the Rye and Franny and Zooey, came out in 1951 and 1961, respectively). But I turned to these men intuitively, and I've continued to turn to them, probably because I enjoy them, but also because no one has taken their place.