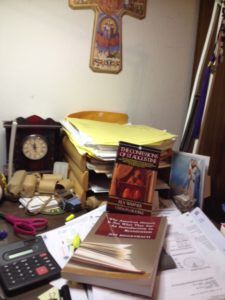 Let's hope the war not spilleth over.
While American media outlets have been trashing the Trump administration over its abandonment of America's "noble Kurdish allies" in Syria, they have paid little attention to an extraordinary and alarming development in Mexico. This week, criminals actually declared open season on the Mexican government–and won.
As part of an ongoing campaign against the country's powerful cartels, Mexican security forces arrested two sons of former Sinaloa cartel kingpin Joaquin "El Chapo" Guzman in mid-October. Presently, the elder Guzman languishes in a maximum security prison in the United States. Mexican officials seemed to believe that taking his sons out of commission might sound the death knell for the rump Sinaloa organization.
It proved to be disastrous. Multiple battles soon erupted between government forces and cartel gunmen in the streets of Culiacan, Sinaloa's state capital. The cartel attackers quickly freed Ivan, the eldest son. Ivan then launched an all-out siege of Culiacan in an effort to free his younger brother, Ovidio.
Rates for every streaming service. The death of cable?
Wired magazine recommends 31 podcasts. TWE didn't make the list. But we push on.
Podcasts are now big business. In this post-Serial audio world, journalists, celebrities, academics and yes, anyone else who owns a mixing desk and a microphone now has a regular show. The quality is generally very high but some efforts can still be hit and miss with dozens of podcasts popping up around the same themes or TV shows. To help you out here's our guide to the best podcasts you should be listening to on Apple Podcasts, Spotify or your favourite podcast app.
I've never been a big fan, but I've always liked country music.
But Jolene herself was always kind of a cipher: We know she was a looker, with those flaming locks of auburn hair, but what, exactly, was going on behind her eyes of emerald green? A new Netflix series, Dolly Parton's Heartstrings, premiering November 22, promises to let us in on her backstory. Each episode of the show, which Parton produced, narrates, and appears in, expands one of her songs into a mini movie."I'm as proud of it as anything I've done," she says. "All my life, I've felt my songs tell such stories. I've always dreamed about being able to make them into movies."
For your off-beat reading interests: Life as a minor league baseball league clown.
Officially, I was free to stop being a nuisance as of the sixth inning, which was also when most of the vendors and three-quarters of the fans would call it quits. Instead I would grab a seat near the exit and continue hollering nonsense until security escorted me out. I am at my core a gibbering weirdo, but I also spent the season as an expectant father. Unleashing my exhausting secret self on a sleepy crowd left more room in the rest of my life for gentleness. Being weird is my exercise, except instead of abs I confuse the people around me. Some people do SoulCycle, I approach strangers with claims that baseball was founded by a turnip farmer named Andrew Dice Doubleclay.
Comments