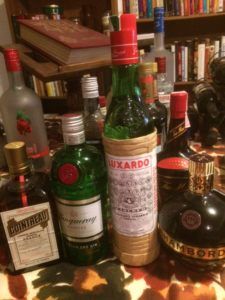 Brew Rambling
Thing is, I can't figure out if this is a bad thing or a good.
Then researchers discovered the unusual truth: Fungi in the man's digestive system were turning carbohydrates into alcohol – a rarely diagnosed condition known as "auto-brewery syndrome."
In people with the syndrome, fermenting fungi or bacteria in the gut produce ethanol and can cause the patients to show signs of drunkenness. The condition, also known as gut fermentation syndrome, can occur in otherwise healthy people but is more common in patients with diabetes, obesity or Crohn's disease.
I have three life bucket goals: develop a taste for coffee, become a saint, develop a taste for whiskey. Not necessarily in that order.
The whisky comes from the same cask #263 of Macallan that yielded the previous world record holders for most expensive single bottle of spirit.
Distilled in 1926, when the whisky was 60 years-old (in 1986) the cask yielded just 40 bottles. Twelve bottles were given a label designed by Italian artist Valerio Adami, 12 more were given a label by Peter Blake and two were sold and given private labels "" including one by Irish artist Michael Dillon which was the bottle sold last November for £1.2m.
This would be like claiming someone stole tourism promotional ads for Somalia. Why would anyone want them?
Anheuser-Busch on Thursday claimed that rival MillerCoors had broken the law by stealing recipes for Bud Light and Michelob Ultra.
The accusations, including that an Anheuser-Busch employee took screenshots of secret beer recipes and smuggled them out, are contained in a 66-page legal filing in federal court in Wisconsin in response to a MillerCoors false advertising lawsuit over corn syrup claims in Super Bowl ads.
I welcome the innovation. I've cut my hands on enough broken beer bottles. It would add serious bio-mass to my garden's compost bin.
Carlsberg started working on the new type of packaging in 2015, and is still a few years away – at least – from selling the bottle to customers. One reason that it's taking so long to develop an effective paper bottle is because Carlsberg needs to make sure that the new package doesn't alter the taste of its carbonated beverage, and because the types of materials it's seeking, like the bio-based polymer lining, are not commercially available.
To move things forward, Carlsberg has been partnering with packaging experts and other companies. On Thursday, Carlsberg said that Absolut, Coca-Cola and L'Oréal are joining its efforts to develop effective paper packaging. More partners can help drive up mainstream demand for the type of materials it needs.
Comments