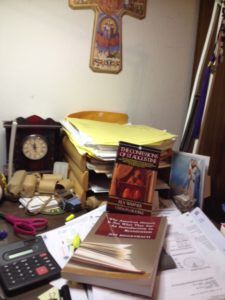 The Blog and Podcast Return Today. Just in time for . . .
I favor legalization, especially when I've seen first hand people benefit from marijuana's medicinal capacities, but I can't get rid of the feeling that this is all going to end badly.
America's first lounge to allow consuming cannabis opens on Monday in West Hollywood. It's called the Lowell Cafe, and brings a bit of Amsterdam to the U.S. with a fancy name.
For the first time in the country, customers will legally be able to order pot as if it were a bottle of wine -- and that in fact is the upscale analogue its owners are aiming for. The pot can be smoked in pre-rolled joints or vaped -- even as the industry is grappling with a spike in lung damage and deaths linked to vaping.
Bad Metaphysics Makes Bad Practice
One interesting challenge in Bhutan [to wiping out malaria] was the Buddhist aversion, in this deeply religious country, to killing any life form, even a disease-carrying mosquito. Thus the officials spraying buildings with insecticide had to reframe this practice. Rinzin Namgay, Bhutan's first entomologist, laughs when he remembers that they would tell anxious homeowners during IRS: "We're just spraying the house. If a mosquito wants to commit suicide by coming in, let it." Decades ago, some sprayers had to muscle their way into houses, accompanied by police.
It seems the fall promises one great movie after another. This is at least the third "must see" movie I've read about in the past month.
Martin Scorsese's "The Irishman" is a coldly enthralling, long-form knockout – a majestic Mob epic with ice in its veins. It's the film that, I think, a lot us wanted to see from Scorsese: a stately, ominous, suck-in-your-breath summing up, not just a drama but a reckoning, a vision of the criminal underworld that's rippling with echoes of the director's previous Mob films, but that also takes us someplace bold and new.
Scorsese, working from a script by Steven Zaillian (who adapted the 2004 memoir "I Heard You Paint Houses"), tells the true story of Frank Sheeran (Robert De Niro), a World War II veteran and unassuming truck driver who, in the 1950s, finds himself drawn into the orbit of Russell Bufalino (Joe Pesci), the elegant and sinister boss of the Pennsylvania-based Bufalino crime family. Sheeran, who became a trusted Mob soldier and hitman, had many assignments, and one of them was to go to work for Jimmy Hoffa (played, in the film's most extraordinary performance, by Al Pacino), whose Teamsters Union was mired in underworld connections. For years, Sheeran served as Hoffa's right-hand thug, and then, according to Sheeran, he was the one given the order to whack Hoffa (though the labor leader's sudden disappearance in 1975 has never been officially solved).
High School Bully Worried Victims Will Realize He Actually Retarded Faggot Himself
I'm almost thinking it's a good idea to undergo a radical change to your diet every 5-10 years. Of course, I'm totally making that up, but if variety is a good thing . . .
Recently, an 82-year-old woman who suffered from dementia, who couldn't recognize her own son has miraculously got her memory back after changing her diet.
When his mother's condition became so severe that for her own safety she had to be kept in the hospital, Mark Hatzer almost came to terms with losing another parent.
Sylvia had lost her memory and parts of her mind, she had even phoned the police once accusing the nurse who were caring for her of kidnap.
A change in diet, which was comprised of high amounts of blueberries and walnuts, has proven to have had a strong impact on Sylvia's condition that her recipes are now being shared by the Alzheimer's Society.
Comments