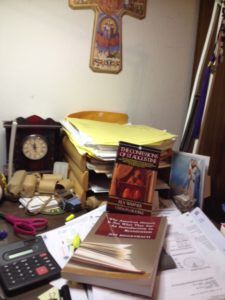 Catholic Intelligentsia Waging War
Let's be a part of the Catholic Dark Web that must emerge in order for this to succeed.
As Deneen was speaking, blueberry pie was served to an audience that included Rod Dreher, the well-known American Conservative blogger and author of The Benedict Option; Matthew Schmitz, an editor of the ecumenical religious journal First Things; and Bria Sandford, editorial director of Penguin's right-of-center Sentinel book division. The next morning, the New York Times columnist Ross Douthat arrived.
In the year and a half since the conference, other writers who have staked out public positions on the nonliberal right include the Harvard law professor Adrian Vermeule, the First Things editor R.R. Reno, the former Washington Examiner managing editor Helen Andrews, and the University of Dallas assistant professor of political science – and deputy editor of the journal American Affairs – Gladden Pappin. One might add Mary Ann Glendon, the Harvard law professor and former ambassador to the Vatican, who in July was named the head of President Trump's Commission on Unalienable Rights
Damn. Seinfeld reruns are still my "go to" when I'm too tired to go to anything new.
Netflix will hold the global streaming rights to "Seinfeld" for five years starting in 2021, according to the Los Angeles Times, which first reported the deal. The contract will commence once Hulu's contract ends with Sony in June of that year.
Another (Social Justice) War Casualty
Amen to the casualty's observation that, as a comedian, he must take risks.
Live from New York, it"¦ won't be Shane Gillis. The comedian, one of three new cast members recently announced for Saturday Night Live's upcoming 45th season, has been fired over a series of racist and homophobic comments that resurfaced online.
Another episode found Gillis referring to Judd Apatow and Chris Gethard as "white f–got comics," calling them "f–ing gayer than ISIS." As if it wasn't bad enough that Gillis made these racist and homophobic comments, one of SNL's other new hires for Season 45 is Bowen Yang, an openly gay Asian-American.
Video.
Across 16 hours and eight episodes, Burns traces the banjo's path from Africa to America to the "Big Bang" of country music when Jimmie Rodgers and the Carter Family (the genre's first stars as it became an industry) recorded their initial records within the same week at the same studio as each other. He continues all the way through Garth Brooks finding a new stratosphere of stardom in the Nineties and it ends with Roseanne Cash–as the daughter of June Carter, a descendant of country music's First Family–talking about the death of her father, Johnny Cash. The first installment premieres tonight on PBS.
And it's a great list. Lots of small cities, including St. Joseph, Michigan, which isn't far from me.
St. Joseph is a small city of just over 8,000 in southwestern Michigan along the shore of Lake Michigan. Area residents have access to a far greater than typical concentration of bars, restaurants, recreation centers, and museums. The area's high quality of life is further supported by the relative scarcity of property and violent crimes and a healthy job market. Just 2.6% of the city's labor force is out of a job, well below the 4.1% national unemployment rate.
For all it has to offer, St. Joseph is also affordable. The typical home in the city is worth about three times the median income. Nationwide, the median home value is 3.4 times greater than the annual median household income.
Comments