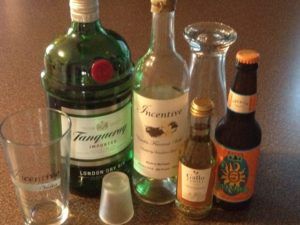 BYCU
I got my weight down to 185. I started the year at 200 (freakin' 200 pounds). I have rewarded myself by wading back into hard liquor. Specifically, the gin and tonic . . . just in time for warm weather.
Gin and tonic is good for weight loss, as pointed out in this article, which says the G&T has only 120 calories.
But I "one up" it. I use Fever Tree Refreshingly Light tonic, which has only 30 calories. And I use only 2/3rds of the bottle per shot of Bombay Sapphire gin, so I'm only taking in 79 calories per drink. And each drink is fairly strong: Sapphire is 94 proof. After three drinks, I'm feeling pretty good, even though I've only absorbed 237 calories.
-----------------------
Worth knowing: "For the third consecutive year, Pennsylvania produced more craft beer than any other state in the nation, Brewers Association chief economist Bart Watson shared during the Brewers of Pennsylvania's annual Meeting of the Malts gathering in Hershey, Pennsylvania." Link.
---------------------
7-Eleven Launches Beer Delivery in 18 Cities. Link.
Comments