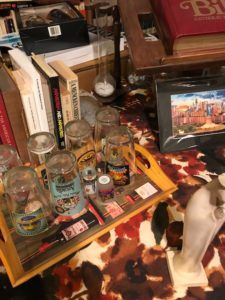 Birthday Rambling
Yup, it's my birthday. Happy birthday to me. All the great saints are commemorated today: Gerald of Mayo, Roderic, Solomon of Spain. Giants, all of us.
It's been a terrible birthday week. I don't know what my problem is, but I've been whipped for the past week. I thought maybe it was Lenten fasting/dieting, but my weight is climbing. I thought maybe it's Daylight Savings Time, but I wasn't feeling great before Sunday. I thought maybe it was drinking Thursday and Friday nights, but it's now Wednesday, and I'm still dragging. Too much exercise? Possibly, but (see point one above).
Oh well. I'm going to take a blogging break today. If you want to send me a birthday gift, please plug The Weekly Eudemon: retweet (see below), like or post on Facebook, send link to friends and relatives, leave a rating or review at iTunes, insist your bartender play it over the bar's speaker system on St. Patrick's Day. Whatever. Any effort is appreciated.
New episode released: https://t.co/Hk6vsBoKf9
— The Weekly Eudemon (@TheDailyEudemon) March 9, 2019
Comments