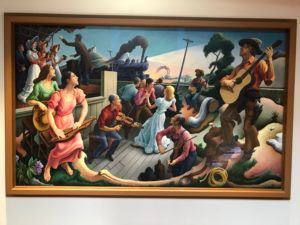 Nashville Ramblings
This is Thomas Hart Benton's The Sources of Country Music, which is on display at the County Music Hall of Fame. I like it. It reminds me of a Grant Wood painting, which I guess isn't surprising. They're both apparently representatives of the same style, known as "Regionalism" ("an American realist modern art movement that included paintings, murals, lithographs, and illustrations depicting realistic scenes of rural and small-town America primarily in the Midwest and Deep South" Wikipedia).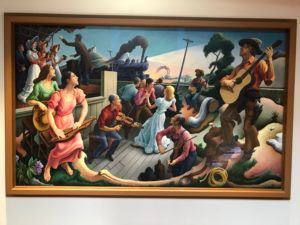 Correction to yesterday's post: Country music went into the tank in the late 1950s, due to the rise of rock-n-roll (not in the mid-1960s due to the rise of the Beatles).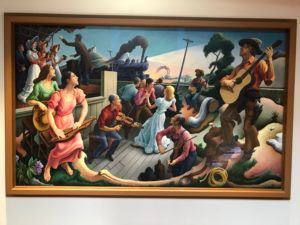 In response, Chet Atkins and other producers developed the "Nashville Sound," which was designed to appeal to a broader audience than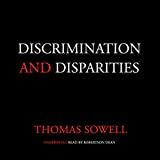 the harsh pickings and twangs of bluegrass and honky tonk. Apparently, the goal was to achieve as many "cross over" hits as possible. Jim Reeves and Patsy Cline are early exemplars of the Nashville Sound; Ronnie Milsap and Anne Murray are latter. The genre was challenged over the years by traditional country music movements, such as the Bakersfield Sound (Buck Owens, Merle Haggard, Dwight Yoakam, etc.), the Outlaw Movement (later Johnny Cash, Waylon Jennings, Willie Nelson, Johnny Paycheck, Hank Williams Jr., etc.), and the Neo-Traditionalists (Randy Travis, George Strait, Alan Jackson, etc.).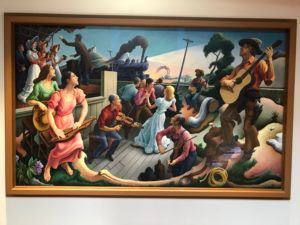 So there, in one TDE-subpost, you have the history of country music. Hope you enjoyed it. I guess Ken Burns is releasing a History of Country Music documentary next year. I'm really looking forward to it.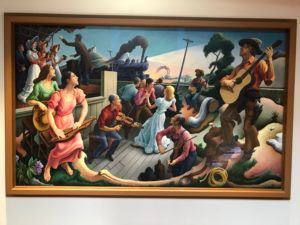 I said yesterday that Nashville was a bit plastic (think, "Carrie Underwood"), but that doesn't much describe Broadway (one of the finest stretch of bars in America). Those bars have maintained the hard-scrabble look (and smell). I don't know if it's the result of proprietors preferring to pocket the profits instead of improving their places or proprietors spending a lot of money to maintain the traditional nasty look, but man, most of the bars are refreshingly dive-oriented. I prefer Memphis' Beale Street, but Broadway has to be one of the top bar streets in America.
Comments