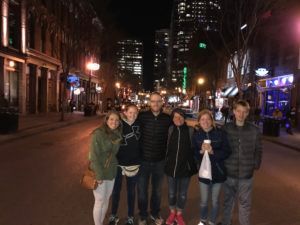 Return from Nashville
Marie and I took the three little kids to Nashville for their spring break trip. Alex and Abbie were able to get days off work and joined us, giving us a clear super-majority (7 out of 9 . . . ain't bad). We got back yesterday. Needless to say, things are still a little nuts around the house. This pic is from our last night there. We were standing on Second Avenue, about a block from Broadway (the Honky Tonk Highway), where we had just attended a block party that featured a free concert by Florida Georgia Line.
The video below is from the rooftop of The Stage, which is close to the iconic Tootsie's (purple building seen at the beginning of the video . . . we had spent the previous evening at Tootsie's, so we jumped the roof to The Stage for something different the next night).
I'll post more about the trip later. Nashville is a cool city . . . but a little bit too cool . . . commercial, touristy, plastic. I learned a lot about country music while I was there. The long story short: Country music went in the tank with the advent of the Beatles, and producers craved and strived for years to bring it to the widespread commercial success that it promised in the 1950s. The years from the early 1960s to 1980s were frustrating. The efforts to spur success spawned a few rifts (the Outlaw movement and rise of the Neo-Traditionalists)), fits and starts, until finally country started to roar again with Randy Travis in the 1980s and went big time with a host of new country stars led by Garth Brooks in the early 1990s. Nashville and country music have been on a 25-year tear, and it shows in the crass commercialization that comes with success. Again, more on that later. It's interesting stuff.