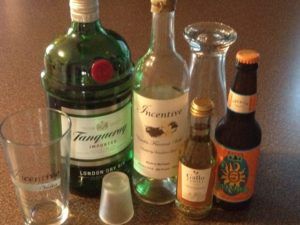 The Wing Ding
The kids and I did it. We threw the mother of controlled wing dings Saturday night for Marie's 50th birthday.
The kicker: It was a surprise party.
And she was shell-shocked surprised.
Friends and family came from Detroit, Cleveland, and Chicago; her local friends showed up in force. We threw the gauntlet down, providing four different beers (including a keg of Blue Moon), red and white wine, and gallons of award-winning custom vodka and other high quality liquor. The bartender marveled at the sheer quantity of alcohol consumed. The girls decorated, the caterer catered, most everyone danced. The country setting (renovated horse barn) proved beautiful, the weather warmed at the last minute, daylight savings time allowed people to enjoy a soft spring evening, the stars put on a spectacular show for those who wanted fresh air as the night paraded on.
The planning was incredibly intense and exhausting. I would never do it again, but when a big chunk of guests went back to my house for more drinks and to watch my niece's fiance (a professional actor) put on a Jerry Lee Lewis performance, watch Michigan win on a buzzer-beater, and in general chill out and talk about the funny stuff that happened during the party, I knew I had come through one of the most enchanted evenings of my life. The evening couldn't have gone any better if Elvis himself had shown up.
The next morning, a throng of the hungover came to our house while Abbie (eldest daughter) cooked pounds and pounds of bacon, hash browns, and eggs. There were forty people in my smallish house, but it was a perfect cap to a perfect evening. All the guests left by noon, leaving my family and I to lounge and nurse our aching bodies and heads and do other low-energy stuff. I was finally able to drag myself to my computer to write this post at 8:00 PM. I'm a fairly high-activity guy. Such a "wasted" day would normally wear on me, but not this day. Everything just seemed so right, wasting didn't seem wrong.
Regular blogging resumes tomorrow.
Comments