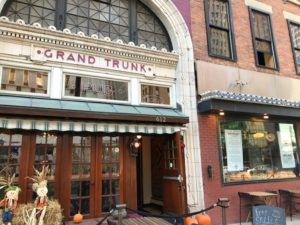 Downtown Detroit Bar Scene
This post chronicles my downtown Detroit bar crawl last week with Marie, Abbie, and Alex. This, you might recall, was Alex's birthday gift to Marie and me.
We started at the bar on the left. I'm pretty sure this was the old "Foran's Irish Pub," which was a frequent lunch place at my old firm back in 1991. The associates referred to it as "Foreskins." Not, mind you, out of disrespect, but simply because we were, you know, men in our late 20s and early 30s. The fact that the juvenileness of it still makes me snicker to this day? I guess there are just some stains that will have to be purgated later.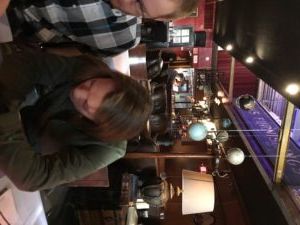 Right above this bar is The Whisky Parlor. Whatta great atmosphere. It had that plush lounge feel, old city-style, with over-stuffed couches and chairs . . . and nice tables, which is where we sat. You can get a feel for its old-city ornateness in this pic. One caveat about this place: I wasn't nuts about the mixed drink I got. It's called "The Whisky Parlor," so they specialize in, you know, whisky, which I detest (yes, I am not a man). The vodka drink that the bartender concocted special for me was very good, but not worth the $10 price tag, but since the entire evening was "on Alex," that's a mere quibble. Don't let that stop you from trying this spot, especially if you like whisky.
We next hit the arcade bar above the Checker Bar. We think the arcade bar is part of Checker's, so we're counting this as a visit to the iconic hamburger joint, even though we didn't get a hamburger. The pinball games were a bit pricey, my vodka tonic was flat, and it was extremely loud. It was definitely my least-favorite place of the night, but still awfully cool, and it was made even better when the large party next to us left, leaving their pizza buffet unfinished. Sure, Marie was a bit embarrassed, but no one said anything. I was probably twice as old as the next oldest person in there. They probably just figured I was senile and didn't know what I was doing. Delicious pizza, btw. Buttery/garlic crust. Outstanding, especially given the zero price tag.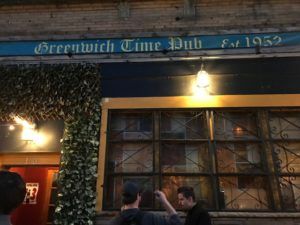 We then went next door to Greenwich Time Pub. I really liked this place. Its schtick? Nothing. It's just a bar. It's in a great location, it was quiet with a nice crowd, and the bartender made a solid, no frills, vodka tonic. The quietness and carbonation was an excellent pick-me-up after the loud and tonic-flat Checker Bar.
We then journeyed over to Sweetwater Tavern. Alex said the terrible service at this place is part of its charm. Fortunately, the service wasn't too bad and the wings were great. Alex's friend from college joined us for about an hour and a half. He rode a bicycle over, on his way to the Trombone Shorty concert at The Fillmore. You can see my pic of Sweetwater at last Friday's post.
Next was Jacoby's. It was a nice place, but it was beginning to get late (I say that literally and euphemistically), and we still had one more bar to hit and a fairly long walk (half mile) to get there.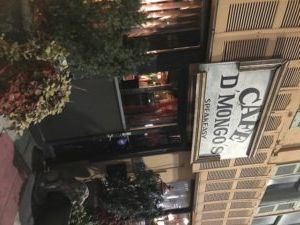 It was D'Mongos. Unknown to us, it's on the fringe of downtown civilization, and while trying to find it, I recommended that we abort the mission, but Alex insisted that we had to press on. He'd never been there, but two co-workers he respects highly recommended it.
I'm glad Alex prevailed. This place was rockin' but not raucously loud (I will post a video tomorrow). A lot of celebrities have frequented it over the years and it definitely has all the gritty Detroit feeling to it. The clientele, like the clientele of all the bars we hit, is young, upperwardly-mobile, professionals. Probably the best atmosphere of the night (subject to The Whisky Parlor, which is in a class of its own). And the drinks were great. I got something made out of Faygo Rock N' Rye. It was amazing. I, unwisely, ended up getting a second.
Added bonus: I met the owner, Larry Mongo, who, like all classy bar owners, had put on nice clothes and was making the rounds, making sure everyone was enjoying themselves. I, incidentally, find that practice very appealing, assuming the owner doesn't stay very long, which Larry didn't. He just stopped by our table to make sure we were enjoying everything then moved to the next table.
I recommend the Travel Channel video that you'll find at the above link. It says D'Mongos' is a hipster joint. I'm not sure I agree, but the statement reminds me of an impulse purchase I made a few years ago: Hip: The History. If American cultural history interests you, this might be a "must read."
Comments