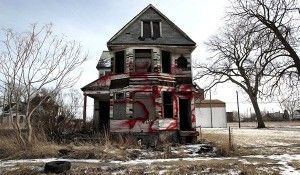 I've seen the future, and it works. Detroit is back!
Well, not really . . . not quite.
I spent nearly twelve hours in downtown Detroit Thursday, re-establishing my acquaintance, hitting old haunts, and, in general, marveling at this great old city that might, just might, be emerging from its dark ages.
Keep in mind: Detroit is big. I spent my entire time on, I'm guessing, a three-square mile strip (out of 138 total square land miles). I was in the heart of downtown only. I've heard there are pockets of civilization emerging in other areas, but I can't vouch for those other 135 square miles.
I was mostly on Woodward, from the Detroit River on the south north over I-75, to the new Little Caesars Arena (where the Red Wings and Pistons play), and in the area from Greektown (the easternmost edge of the reclaimed area) to Joe Louis arena (the westernmost edge). Those areas, during the day, are safe and fun to explore. You see renaissance all around, but you still see enough of the dilapidation to make you feel like you're on the cusp of something that isn't there yet.
What I found most fun about the ongoing rejuvenation is the interest it piqued in me. Maybe it's my advancing age, but when I was younger, I always just wanted to get out of downtown Detroit. I worked there . . . and went home right away after work. I went to a Red Wings game, maybe grabbed a drink at one of the two bars on Jefferson Street where a guy felt safe . . . and went home asap. Now, while I'm walking around, I want to see things: "Oh, the Detroit Public Library. I hear that still has its ostentatious charm from the generosity of auto moguls. I'd like to check it out." That feeling hit me repeatedly while walking around that afternoon.
There is a ton to see of old Detroit in these rejuvenated areas. The renaissance hasn't been remotely thorough yet, so even though people are coming to these areas, making them safe again, all the old buildings are still there. It's really, really cool.
Put simply: When you go to downtown Detroit, you aren't going to McUrbanald's, like you do in, say, downtown Chicago. You're going to one of the world's greatest cities from 75 years ago . . . and still seeing it, up front and close, but seeing it with a lot of other people and feeling safe while doing it.
I plan on posting picture of my bar crawl (eight bars hit in total) next week. Today, I am offering pictures from my day-time walk (pre-crawl). If you have an occasion to go to Detroit, I suggest you do it soon. Rumor is, Amazon is ready to make Detroit its eastern headquarters, creating 50,000 new jobs, many of them tech jobs. If that hits, Detroit, which is already on a road to recovery, is going to boom fast. That old-world ("authentic") charm that makes it unlike any other urban area I've visited will be gone.