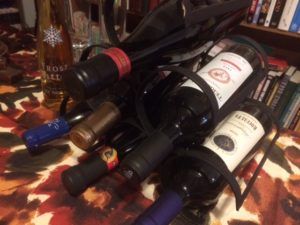 Brews You Can Use
Those Theology on Tap sessions take it out of me. I was wiped out all day and didn't get a chance to take a nap. I finally reached the end of the day at 8:00 last night, free-poured myself a gin and tonic, crashed on the couch and played with my new Amazon Echo Dot.
It's really cool. It might be my best $50 experiment of 2017. I sat down and said, "Hey Alexa, play Greg Kihn Band." She then hooked up to my wireless Sony speaker and cranked out a cool song that i'd never heard, but it was Greg Kihn. I then asked for "The Breakup Song," which she promptly played. I then asked to hook up to the Amazon punk rock radio station and, boom, she started playing the Ramones.
An exhausting day quickly gave way to the feeling that I could sit forever on that couch with my half gallon of New Amsterdam gin and Fever Tree tonic. Added bonus: two of my daughters were in the kitchen, giggling while baking cookies and laughing at my weird Alexa demands.
The Breviary on Wednesday admonished me to dedicate myself to thanksgiving . . . or something like that. For a few minutes last night, I felt like I'd conquered that art.