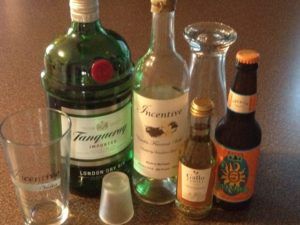 BYCU
Cocktails are like anything else: You get out of them what you put into them. Actually, I don't really believe that cliche, but still, it holds for the cocktail.
For a few years now, I've been looking for that perfect concoction: a delicious drink that doesn't require me to squeeze lemons and limes, to shake the simple syrup, to add more than four ingredients, etc. Alas, I simply don't think it exists.
There are the incredibly easy cocktails: You walk into the store, grab it, pay for it, drink it. Some aren't too bad (the Captain Morgan Long Island Ice Tea is probably the best in this class), but that's the most that can be said for them.
And there are the simple concoctions: Tonic and gin (my favorite), rum and Coke, etc. Those are fine, but they only get you so far.
But last weekend, I found a simple concoction that comes close to being the perfect concoction: The Blue Lagoon. I found the recipe online and since Brooke Shields had an insatiable crush on me in the 1980s, I decided to try it.
It's excellent, especially if you have a sweet tooth.
And it's simple.
Two parts Kinky Blue, one part Blue Curacao, three parts lemonade (I just use the Minute Maid lemonade from a two-liter bottle). Does it beat Liquid Marijuana or the Holiday Tom or Electric Lemonade? No, not at all. Does it come close? Not really, but kinda. Is it a ton easier to make than those drinks? Absolutely.
It's definitely worth a try. Bonus: it's a very pretty drink and fairly cheap to make.