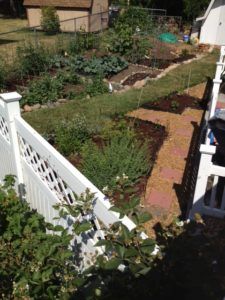 From the Gardening Journals
The produce stand's garden is coming along. Timing almost worked out great last weekend: I spent three arduous hours on Saturday, forming out two 2.5' x 60' raised beds. I spread the organic fertilizer then left, hoping for rain (since I'm not hooked up to city water yet). Alas, it poured Biblically. I went back on Sunday and couldn't access most of the beds without getting stuck in the mud. I went back on Monday evening, raked out the debris that had floated to the top, and planted six 20' sections: lettuce heirloom mix, tat-soi, mesclun mix, rainbow chard, green wave mustard, and chinese kale.
I also took a soil sample and mailed it to Michigan State University. It cost $25, but I've read/heard repeatedly that those soil tests are pretty amazing. I'm really looking forward to getting it back. The soil feels awfully rich, and I've been told that area has legendary top soil, but it's really rocky. I'm not sure what to think.
There's a saying among good offensive threats in basketball: "Take what the defense gives you." If your defender is laying off, shoot; if the defender is forcing you left, then go left; etc. I've adapted the same approach with the garden: take what the soil and conditions give you. In this case, I have tons of big rocks in the soil, so I'm using the rocks to raise the beds a bit: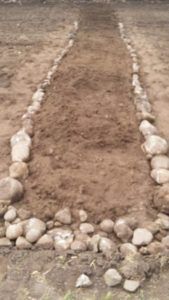 If you're curious, here's a picture of the site before I did anything on it, then after it was scraped. I'll post more pictures as I get it developed: