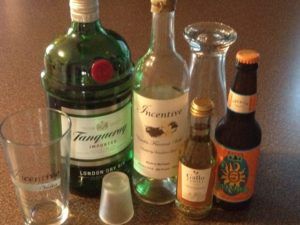 Wow, full-on life blitz: office, family, garden. Every May, I say, "This May won't be so brutal like the past." And every May, I'm wrong. The number of obligations is stunning . . . and wearying. Fortunately, I continue to make time for a few weekday Masses and a few weekday drinks.
Last night, I took the family bowling, with eldest daughter Abbie and her boyfriend. It went well . . . because I won (178, 138, 169). The three Animator drinks from the bar helped, too. It was rum, blue curacao, Midori, sweet and sour mix, and a few other things. I'll have to write down the ingredients and experiment with the recipe.
I don't have anything for BYCU today. If you didn't notice, I'm not even getting this post up until Friday afternoon. I normally have these put together a day or two ahead of time, but it simply wasn't possible this week.
I hope to start forming beds at the Site this weekend, but a conference track meet and wedding (both out of town a little ways) are making it dubious. The tractor guy pounded up the ground, but it's going to take a lot of hoeing to make those huge black chunks of soil into pristine ground.
Good thing I have lots of vodka stored up.
Comments