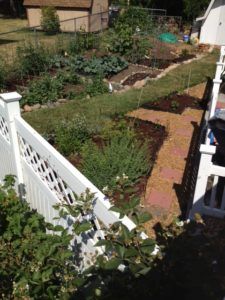 From the Gardening Journals
The garden chronicles continue. On Monday, I got a half acre scraped off, which I was stoked to see. I then went out right after work to start churning the soil.
I ran into a phenomenon that locals call "Sturgis top soil." I guess it's highly unusual: Incredibly rich soil, but packed hard as a rock. I couldn't come close to penetrating it with a Johnny's broadfork (jumping on it, jiggling, swearing). I started hacking at a small section with a peasant hoe. I then went back at it with a broadfork . . . and got stymied. I then hacked it with a peasant hoe, then jumped on the broadfork . . . and got stymied.
After 20 minutes and a sheen of sweat, I had churned up a 3'x3' area, only four inches deep. I then called the guy who scraped it and asked if he could find me someone with a commercial-grade tiller. I'm still waiting, but I'm told he found someone.
With any luck, I can start forming beds on Saturday morning and planting on Sunday. We'll see. It's been quite the parade of setbacks.
Comments