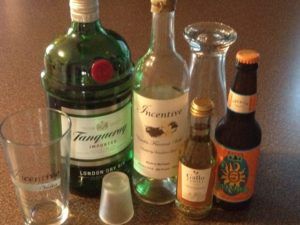 BYCU
Thursday evening, 6:45. I'm sitting down with my first gin and tonic tonic and gin after a miserable day.
I started at the dentist office, where I had an implant put in. I was told it's "easy peasy," but man, I've seen easier vestal virgins. Sixty minutes of wrenching my face all over hades. I was drained afterwards, but I had to get back to the office to deal with some bad developments in one of my files. After putting that matter to bed, I turned to my backlog of projects and the power went down. I learned that it was an outage that affected half of the city and had no sign of abating. I dismissed the staff then went home and took a short nap, being woken up after ten minutes by one of the myriad of electronic devices in our house. I tried to exercise, but cut it short because my mouth started throbbing. I then inspected my bed of expensive Salanova lettuce that I planted two weeks ago and confirmed none of it was sprouting, emailed Johnny's to express concern about the $640 six-row seeder they sold me (I think it plants the seeds too deep), then took a shower. I then plopped down at my computer to type this blog post whine, but nevertheless grateful that I don't have any real problems confronting me.
Tonight it's just me, some family, and gin. Oh, and music courtesy of Pandora in the background.
And, of course, the NFL draft.
As of this writing, I don't know who the Lions got, but I'm not optimistic. I read a statistical analysis of the NFL draft since 1996, which concluded that the Lions have been the worst team at drafting over the past 20 years. We normally get a pretty exciting player at draft time, only to have the pick fizzle out on us by year three. But our high draft position has always made draft night the second best day of the year to be a Lions fan (the best day is Thanksgiving Day). Alas, this year, we don't draft until the end of round one.