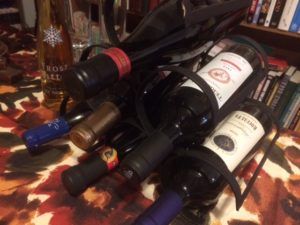 Brews You Can Use
I'm battling my first cold of the season (count one's blessings) and am awfully jammed at the office, but I plan on drinking tonight.
I never give up alcohol for Lent. Alcohol, if approached correctly, is practically a sacramental. I don't believe in giving up alcohol for Lent any more than I believe in emptying the holy water fonts during Lent. Some people do, and that's fine, but I don't.
But still, does that mean I should drink the incredibly-rich (and delicious) Electric Lemonade or Liquid Marijuana? That doesn't seem right, either.
After much prayerful consideration (about 90 seconds worth), I've settled on red wine. That strikes me as the perfect Lenten drink. It is the sacramental drink. It's neither rich nor delicious like the elaborate mixed drinks. It's not my first choice . . . not by a long shot (Liquid Marijuana, Electric Lemonade, the Tom Collins, G&T, V&T, and prefab drinks like Mike's Hard Lemonade all rank higher for me), so there's a bit of asceticism in it for me.
So that's what I'm going to drink this Lent, at least on Fridays. The K of C fish fry, followed by a bottle of red wine. That strikes me as a pretty reasonable Lenten TGIF diet.
______________
BTW: Does anybody know of a better name for "Liquid Marijuana"? I Googled it, but nothing immediately came up. I started calling it "Liquid Marie," but my wife objected. Go figger.