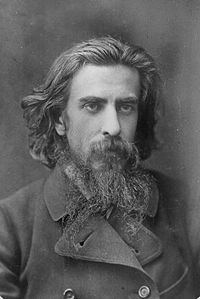 Wow, a Solovyov sighting: "Vladimir Soloviev, the Mystic Admired by Popes."
Those are about as common as, say, Max Beerbohm or Orestes Brownson sightings. The piece is a bit choppy, but not too bad. Excerpt:
"Repeatedly, Soloviev pointed out once the Russian Church abandoned the jurisdiction of Rome it had inevitably fallen under the control of the government," Father Ryland noted. "That, he said, is the fate of all purely national churches." Soloviev believed the only way to avoid being subject to the state was for the national church to have unity with Rome.
Father Ryland clarified, "In the East, said Soloviev, there are only isolated national churches. Only if they return to the divinely appointed center of unity can they be truly catholic."
Soloviev insisted the real issue with regard to Rome was the anti-Catholic Eastern apologists dealing mostly in the negative. The sticking point was the pope.
"Soloviev would agree with those Eastern Orthodox theologians who concede that the underlying issue between themselves and Rome is the issue of authority," said Father Ryland.
It prompted me to take my copy of Divine Humanity off the bookshelf. It looks like I got about a third of the way through it before getting distracted. I remember thinking it was pretty opaque . . . but what Russian artists aren't?