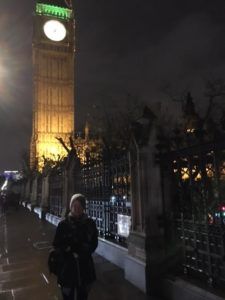 Here's Marie in front of Big Ben, last Saturday evening. After Mass at Winchester Westminster Cathedral, we bought a few cans of gin-and-tonic (a nifty product that I haven't seen in the States) and walked along the Thames. Our entire time in England was enjoyable, but that evening may have been my favorite.
Long-time TDE readers know that I normally publish a recap of my vacations, but I'm not going to do that this time. We had a very rough trip home (it took nearly 21 hours from the time we left our room until we walked into our front door) that exhausted me, and now the jet lag is still lingering. On top of that, I am (of course) way behind at the office and I had to get my fall harvest in before the snow arrives today.
I will, however, be adding England blurbs throughout my upcoming Miscellaneous Ramblings. I have a lot to blog about.
The Londoners' reaction to Trump will be the topic tomorrow.