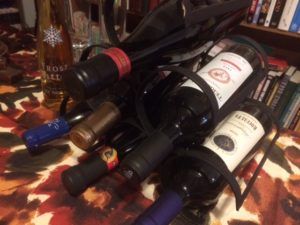 Brews You Can Use: Bites
I drank a lot of mojito last Saturday evening. It gave me a pretty bad hangover, considering that I stopped drinking early and pounded about fifty ounces of water afterwards. I don't know if it was the rum or other factors at play. I might give it another run this weekend and see what happens.
From Wikipedia: During Prohibition, "enterprising grape farmers produced liquid and semi-solid grape concentrates, often called "wine bricks" or "wine blocks". . . . The grape concentrate was sold with a warning: 'After dissolving the brick in a gallon of water, do not place the liquid in a jug away in the cupboard for twenty days, because then it would turn into wine.'"
Also seen at Wikipedia: The United States' national anthem began its life as a drinking song in an English gentlemen's club.
From the Daily Beast: Beer labels in the United States are approved or rejected by a single bureaucrat, Kent "Battle" Martin, who has been called the "Beer Bottle Dictator"