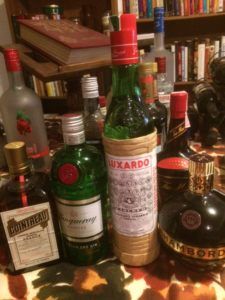 Brews You Can Use
The summer wraps up. As always, it's been a long, hectic one, but I'm sad to see it come to an end. Fortunately, I'm an autumn fan. I love everything about the fall: good sleeping weather, the color, cooler days, the harvest. I don't even mind what's coming after it, since it just means I'll be spending more time with my books.
The only thing I don't like about fall: it means the gin and rum season is coming to a close. That, of course, won't keep me from drinking them, but pretty much all the drinking blogs will soon start devoting themselves to whisky drinks, and I hate whisky.
Don't get my wrong: I like whisky, from a romantic standpoint. I simply can't stand the taste. I've tried to cultivate a taste for it, but I simply can't. Whisky, coffee, and tomatoes: three things I really wish I liked but don't. So instead I have to ingest vodka, tea, and cucumbers. Small crosses, yes, and for that I'm grateful.
Anyway, if you're looking for easy Labor Day drinks, this article features some good ones. Sample:
PINK PLYMOUTH GIN & TONIC
Everyone knows how to make a G&T, but you can greatly up your game by using rich juniper-forward Plymouth gin and adding a few dashes of Angostura bitters that will turn the drink pink. For intense rose-colored glasses, make a Gin & Tonic with the new Victoria Pink gin from Gin Lane 1751.
Comments