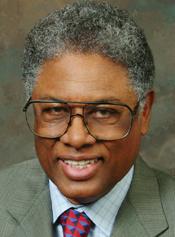 Sowell's latest, writing about the University of Chicago's resistance to the PC Fascists and its history of bucking conventional idiocy. Excerpt:
At Harvard, not only have invited speakers been shouted down and sometimes assaulted, even a Harvard professor's classroom was invaded by disruptive students who didn't like what he was teaching. Such things have also happened at Berkeley and other elite institutions across the country, as well as at less renowned institutions.
The uniqueness of the University of Chicago is not something new. Back in the 1960s, as campus riots spread across the country, and academic administrators caved in to even the most outrageous demands, dozens of disruptive students were simply expelled from the University of Chicago and dozens more were put on probation. As Professor George J. Stigler, a Nobel Prize-winning economist, said, "our faculty united behind the expulsion of a large number of young barbarians."
But such faculty support required a sense of mission, beyond a quiet life on campus in which to pursue one's own career. Even as grade inflation soared, and failing grades virtually disappeared in some colleges and universities across the country, that was not true among professors of economics who had been trained at the University of Chicago.