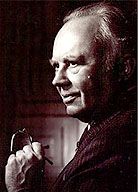 Shows my ignorance. From that Russell Kirk biography I mentioned yesterday:
"Marjorie Rachel Pierce Kirk gave birth to her son, Russell Amos, on October 19, 1918, in a prefabricated house, ordered originally from Sears, Roebuck, and Co., in Plymouth, Michigan, and built by his grandfather in 1913, but with no indoor restroom."
I've read a fair amount of American history and, somewhere along the line, I remember reading a fair amount about Sears, Roebuck, but I never knew prefab houses pre-dated the single-wide, double-wide, and today's modular.
Comments