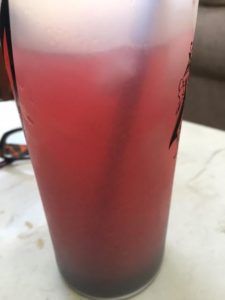 Summer Tom Blues
There ain't no cure for the Summer Tom [hangover] Blues . . .
Black raspberries grow wild in my neighborhood. I met with the vodka master yesterday morning, and he told me black raspberries would probably work great in lieu of blueberries.
He was right.
I mixed up a new concoction last night. TDE readers who remember the Holiday Tom will no doubt see a resemblance.
Half shot of freshly-squeezed lemons and limes. One shot of simple syrup. Three (2.75) shots of vodka. Shake. Pour over a tall glass of ice. Top off with club soda. Add muddled black raspberries.
Short-time TDE readers will see the resemblance to the blue muddler I blogged about earlier this month. The main difference: I make my own Sprite (lemon/lime, simple syrup, club soda) and, of course, I use the black raspberries instead of blueberries.
It was fantastic. So much so, I'm surprised I'm capable of posting this morning.
Enjoy!