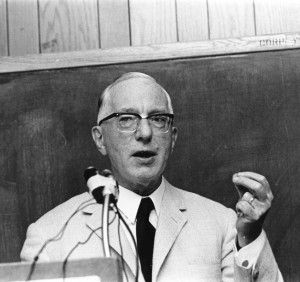 Wow. I gotta think seriously about going to this. It's at my alma mater, only 50 minutes from my driveway: Front Porch Republic Annual Conference.
This year we'll be at The University of Notre Dame. The theme of our conference: Populism, Power, and Place. Confirmed speakers include Bill Kauffman, Jason Peters, Philip Bess, Jeff Taylor, and Michael Federici. The keynote address will be given by Patrick Deneen. You won't want to miss this event. I hope to see you there. Registration information coming soon.
Wow, Kauffman is a draw for me, as is the mere fact that it's a FPR event. But the real kicker might be Federici. He wrote an excellent introduction to the thought of Eric Voegelin. Long (real long . . . and attentive) TDE readers know that this younger TDE scribe wrestled mightily with Voegelin's works, even making it through all five volumes of his majestic Order and History and mastering thoroughly 3% of The Ecumenic Age. If Federici is going to touch on anything Voegelinesque, I'm going.
Comments