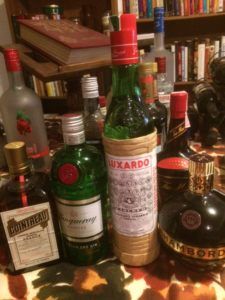 Brews You Can Use
One of the more interesting articles about gin I've seen lately: 8 Surprising Facts You Never Knew About Gin.
The number one "gin-consuming country in the world is the Philippines. They are responsible for almost half of the world's global consumption. The United States, the birthplace of so many amazing gin cocktails, is actually the No. 2 market for gin in the world."
"Gin is massively popular in Spain at the moment. The Gin & Tonic is one of the drinks of choice there, and they have taken its service to new levels. They tend to serve it in giant goblets, and there's a lot of innovation happening with garnishes [in Spain] to make it a more inviting and interesting drink."
"Dorothy Parker, Noël Coward, Winston Churchill, W.C. Fields, F. Scott Fitzgerald, Ian Fleming (the author of James Bond who actually drinks more gin than vodka in the books), Franklin D. Roosevelt, Raymond Chandler and Charles Dickens were all well-documented lovers of gin."
(That's a pretty good list of drinkers, if you take out FDR, who was a well-documented ass.)
"[B]efore Fever-Tree, finding good tonic wasn't easy. They kick-started a movement of high-quality tonic water, and now you can also find other great brands like Q and East Imperial as well."
"[G]in is notoriously always served in cocktails. It's the quintessential cocktail spirit and has more classic cocktails to its name then any other spirit."