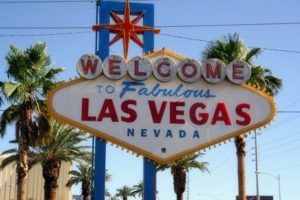 Things to Do
There's one reason to go to Vegas: The huge array of things to do. There's no good way for me to explain it in general, so I'm just going to list the things we did and offer commentary.
The casino hotels-resorts. These are mind-blowing in their size, opulence, and free attractions. On Tuesday, we walked about half the Strip, looking for the various attractions. My pedometer says we walked nearly 25,000 steps (nearly ten miles), and the bulk of the steps were taken indoors. A few of the resorts must have more square footage than many towns' entire downtown area. We went to the Strip six times and never got bored. And we're pretty sure we saw less than half of everything there is to see.
The restaurants. Las Vegas has a reputation for great food, and the reputation is well-deserved. I wouldn't be surprised if it's impossible to find a bad meal on the Strip. If you go to Vegas and like pizza, be sure to go to Grimaldi's at The Palazzo. I'd never heard of it, but I guess it's a franchise, with a location opening soon in Michigan. I'm going to check it out the next time I'm in Detroit.
Neat free things we saw at these monstrous resorts: The Bellagio Fountain (brief video tomorrow), The Mirage Volcano, Little Venice (at The Venetian; looks just like Venice, according to my mom), the Fall of Atlantis Animatronic Show (see below). Other free features we saw: New York replicas at New York New York, wildlife sanctuary at The Flamingo, and city street replicas in Planet Hollywood.
The shows. We took in two shows: The Ultimate Variety Show, which was great, absolutely great. Seventy-five minutes of fast-paced and varied entertainment. Wally Eastwood's juggling blew me away, the comedians were funny, the acrobats amazing. We also took in a Nathan Burton magic show which was good.
Street performers. I think Las Vegas has more street performers per cubic foot than any city in America, including New York. Uneven quality, for sure, but always good to see. We kept quarters and dollar bills in our pockets to put in their hats.
Arcades. My kids think the arcade at New York New York is the best arcade they've ever seen, though I hear the one at Circus Circus beats it. We also rode the rollercoaster at New York New York, which was worth doing, but other than the scenery (it moves in and out of the casino itself and overlooks the Strip), it wouldn't rank in the top six at Cedar Point.
The national and state parks. Vegas is surrounded by God's country. We went to the south rim of the Grand Canyon, Fire Valley State Park, and Death Valley (video from Death Valley will be posted tomorrow). The trip to the Grand Canyon probably wasn't worth it: eight hours of driving, just to look at it for about 90 minutes. I'm glad to cross it off my "bucket list" and it is incredible, but unless you can take the time to go to the floor of the Canyon, I wouldn't recommend it as a day trip from Vegas. I would, however, recommend Fire Valley and highly recommend Death Valley. We hit Death Valley at 102 degrees, and it was really cool (so to speak). We also visited Hoover Dam, which is very close to Vegas. Definitely worth a trip, but I'm pretty ignorant of things engineering, so I didn't find myself remotely tugged to take a guided tour of it.
Fremont Street. Downtown Vegas is really, really cool. It's not as "in your face" as the Strip. It's more laid back, with an "authentic" feeling to it and lots of twentieth-century history (many spots with a "fifties" look). While at Fremont Street, we checked out the historical Golden Nugget and its swimming pool: which features a shark tank inside the pool, which undoubtedly makes for a pretty cool hotel swim experience. "The Fremont Street Experience" features free musical shows on two separate stages, lots of street performers, lights, and a ton of things to see. It is "an experience." Video footage, including a snippet of the decadence you'll find there, will be posted tomorrow.
Container Park. An entire outdoor shopping mall made from shipping containers. To be frank, it's not as good as I hoped for, but it's free and only a block from the Fremont Street Experience. It's worth the very short walk . . . and on the way you'll go by the historic El Cortez: the first casino with a mob influence (it was Bugsy Segal's first step into Vegas, before he started The Flamingo).
The Mob Museum. This is probably the best museum I've ever visited. Fully modernized with a ton of digital features, it tells the story of the Mafia in America. Ever since watching a docu-drama about the mob with my parents when I was about twelve (which I can't find anywhere, unfortunately), I've been interested in the Mafia so maybe my enthusiasm for this museum is disproportionate, but I doubt it. AAA give it a gem, and everyone in my family loved it.
The Gold and Silver Pawn Shop. Ignore the stories you'll see on the Internet: You can get in without a problem (unless it's a filming day, of course). We had to wait in line for about 90 seconds, then we walked through this little store for about fifteen minutes and left. We really enjoy the show, so it was neat to see it first-hand. The kicker: Michael bumped into one of his football teammates from back home outside the store.